comfortable, cozy and quintessential
Havana Springs has several uniquely decorated suites and most sleep up to 4! We can comfortably sleep up to 35 guests. Each of our unique guest suites has a historic theme with comfy bedding, spacious bathrooms, mini kitchens, refrigerators, microwaves, flat screen TV, and bath products. All suites have a comfortable queen size bed, and some have a futon for 2 with luxury linens and pillows. See detailed room descriptions below which indicate rooms that have additional sleeping options.
All guest rooms include complimentary snacks and beverages for each registered guest.
Check-in time is 3:00pm and check-out is 11:00am.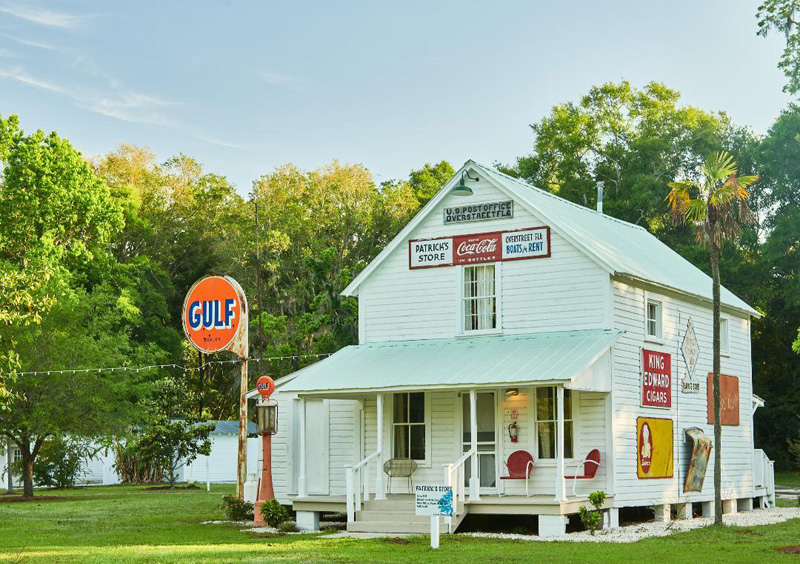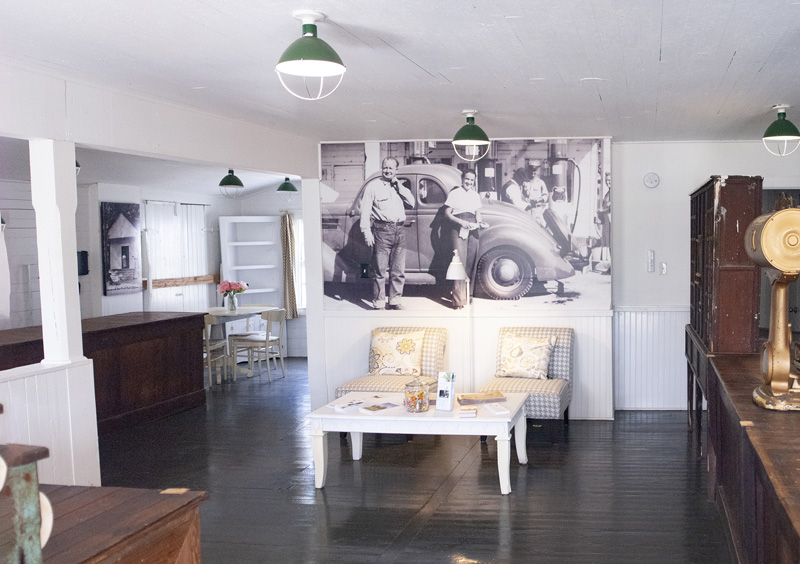 We accommodate the varied preferences and expectations of guests by offering both conventional front-desk check-in processes and mobile check-in options. 
Paperless check-in allows you to sign check-in receipts or registration cards digitally on a mobile device using electronic signature capture. Without the need to print and file check-in receipts in hard copy, the check-in process is faster, and environmentally friendlier.
Our unique general store will have interesting and unique gifts, snacks, refreshments, sunscreen, necessities such as forgotten travel items, an ice cream parlor and serves as a resting stop for those wanting to sit a spell. The front porch is the best! 
(Currently Under Construction)
The Shady Rest Event Center, established in 1927,  is our larger rental venue. It is best known for its role during prohibition and for being a local Honky Tonk before being moved to the property. 
Shady Rest offers a gorgeous wedding ceremony and reception location for up to 200 guests. 
Shady Rest has a beautiful 3300 sq ft floor perfect for celebrating and dancing, plus a patio perfect for entertaining.
This space features a full-service catering and beverage department, a gazebo ceremony site, and an exquisite 200-year-old oak tree with enchanting moss hanging from its branches. 
Here guests will also find, vintage sculptures, a general store, and many other interesting gems.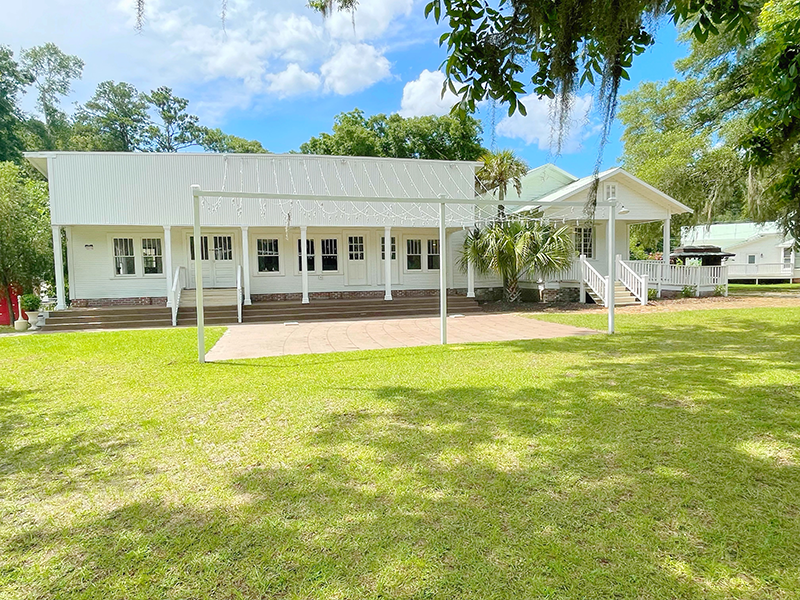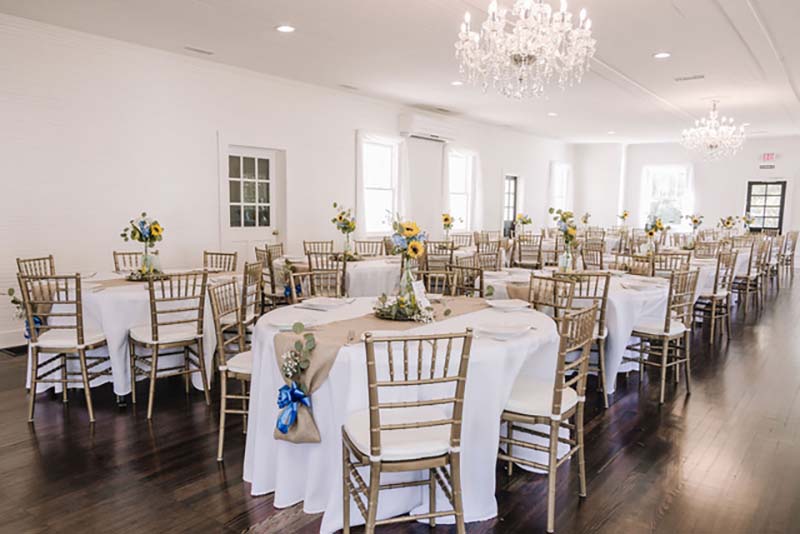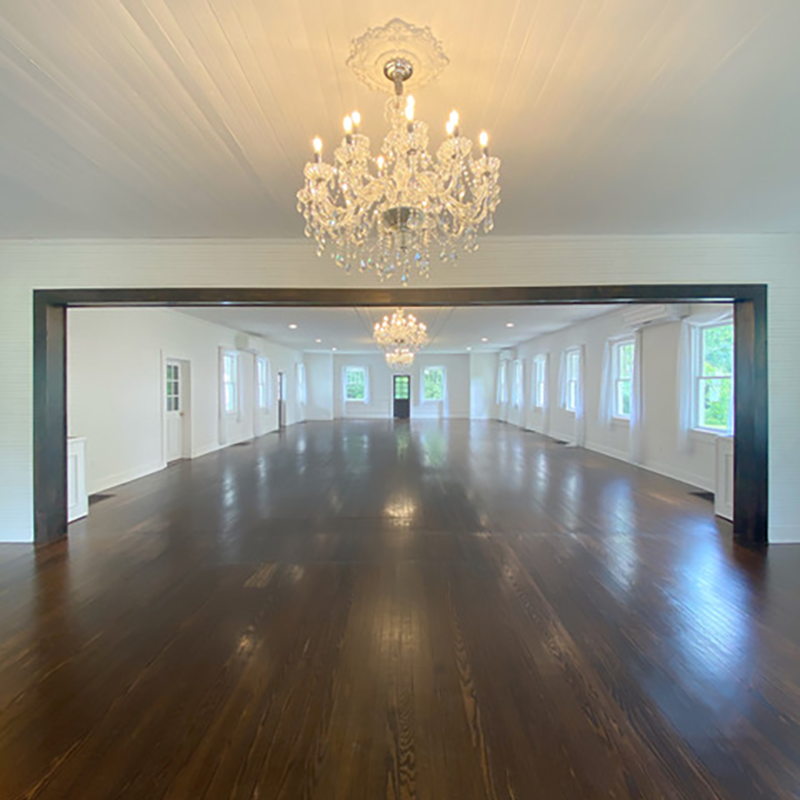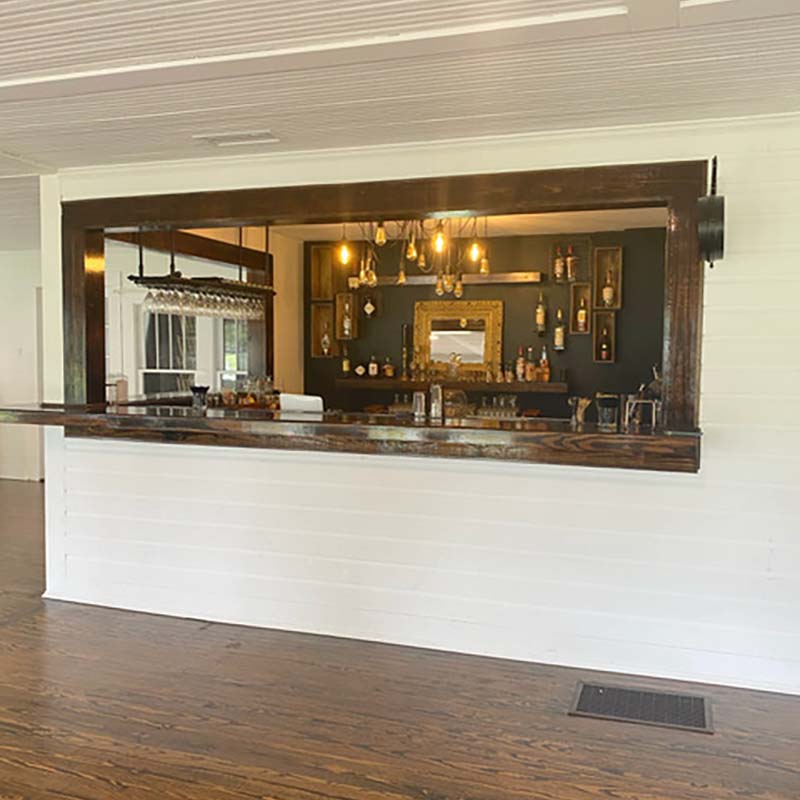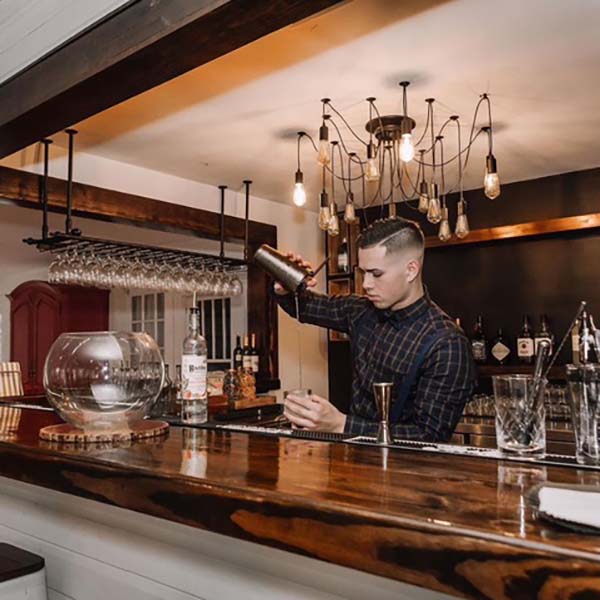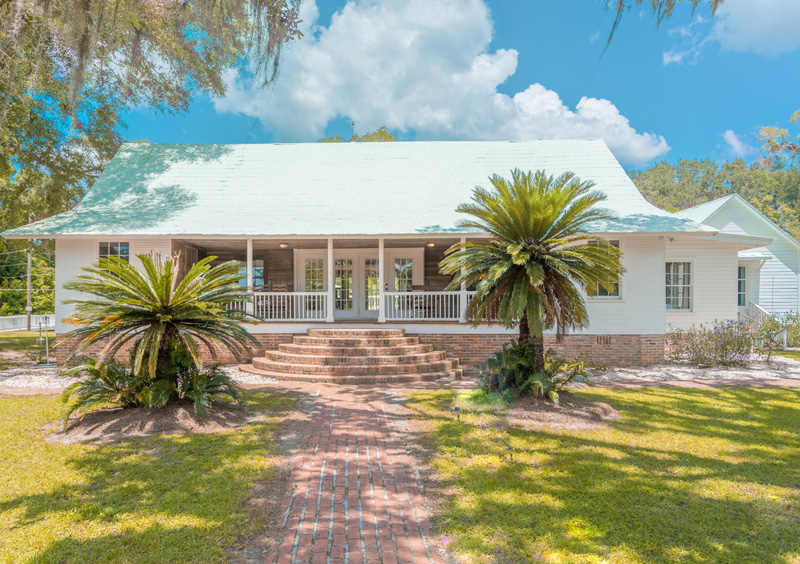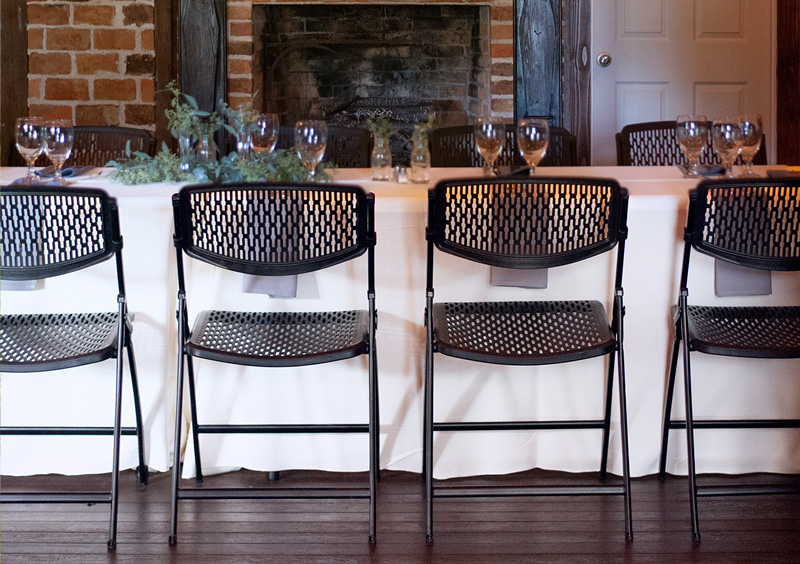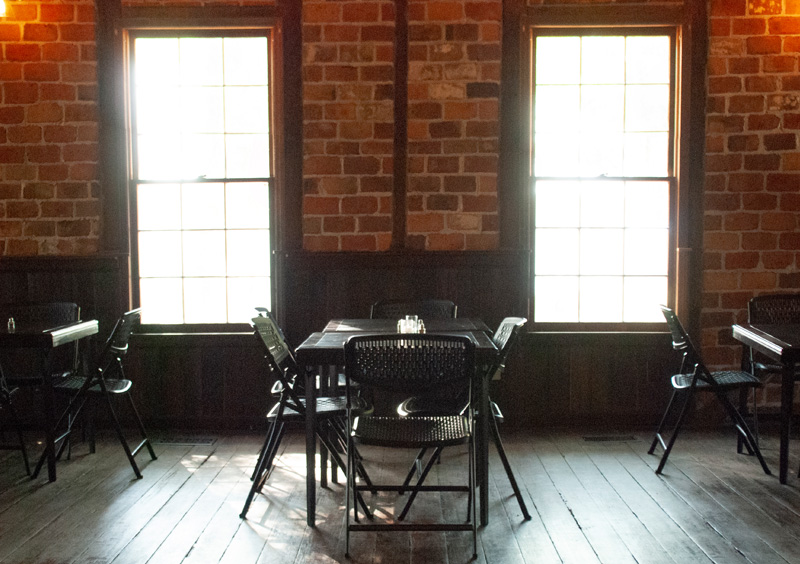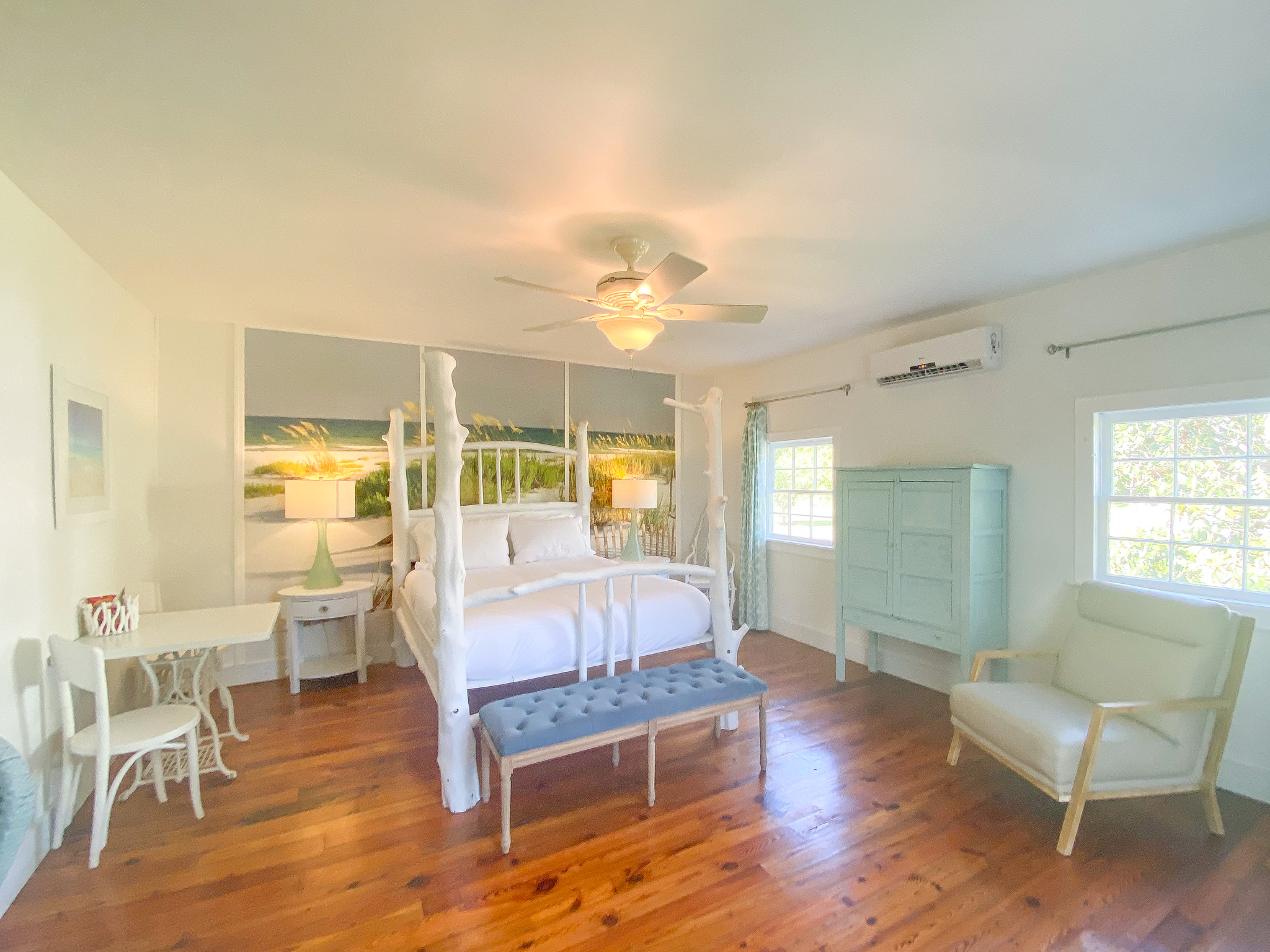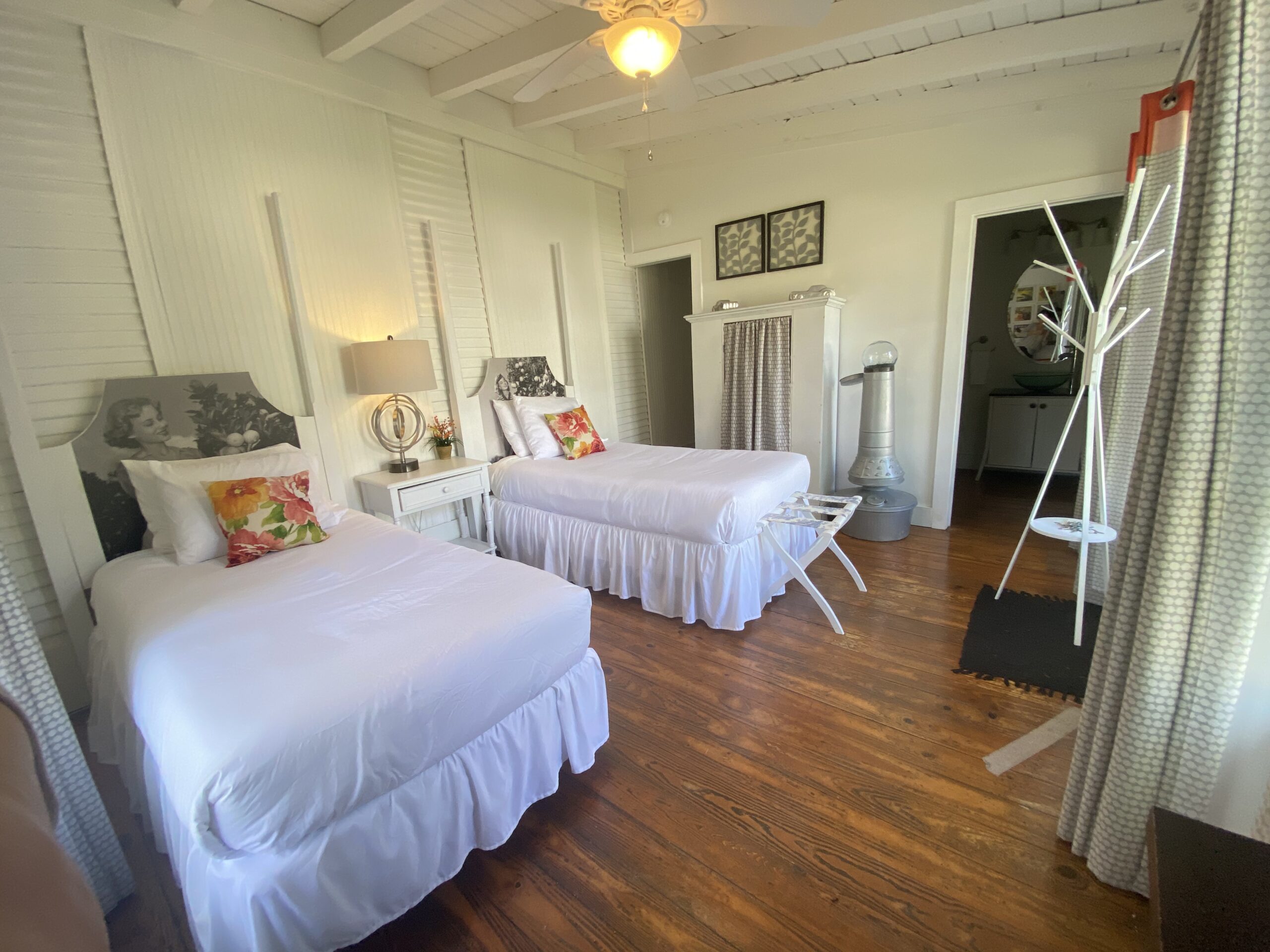 On the National Register of Historic Buildings, the c.1828 Nicholson House is one of the oldest buildings in this part of Florida. The architecture is unusual and distinctive: an arched dog trot between two heart pine rooms insulated with bricks, rafters and mortar made on the property.
Sea Oates Suite: A large room with 2 windows, French doors, a refinished heart pine floor, and a huge wall mural of sea oats on a Florida beach, Sea Oats sleeps 2 people in hand-carved rustic log queen bed. The room has two easy chairs for relaxing and a table made from an old sewing machine base. The mini-kitchen has another sea oats mural, and the bathroom has a walk in shower and is lined with pressed tin.
Orange Grove Suite: The Orange Grove sings the song of the Florida citrus industry with two twin beds and posters, orange crate labels, and signs featuring Florida oranges. The room features a vessel sink, walk-in shower and has an easy chair for relaxing. The Orange Grove suite sleeps 2. 
The Littman House is our beautiful newest restored historical home that has been renovated into 6 unique guest rooms.
All of them have the same comfy vintage Pottery Barn® like décor with antiques, luxury linens, flat screen TVs, refrigerators, coffee makers and microwaves. Some of the rooms have the original fireplaces!
Littman #2 & #3 are connecting rooms which make for a great experience for those wishing to make a larger guest room suite.
All the rooms have walk-in showers and one queen sized bed that sleeps 2.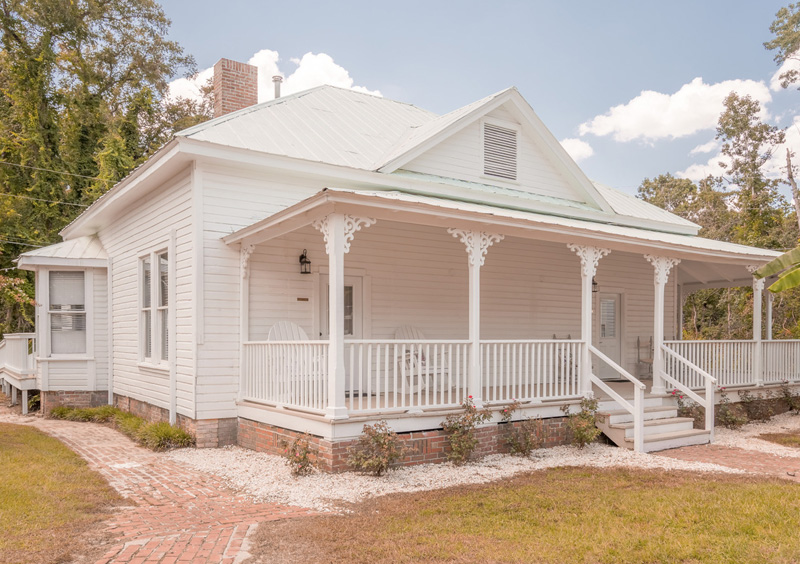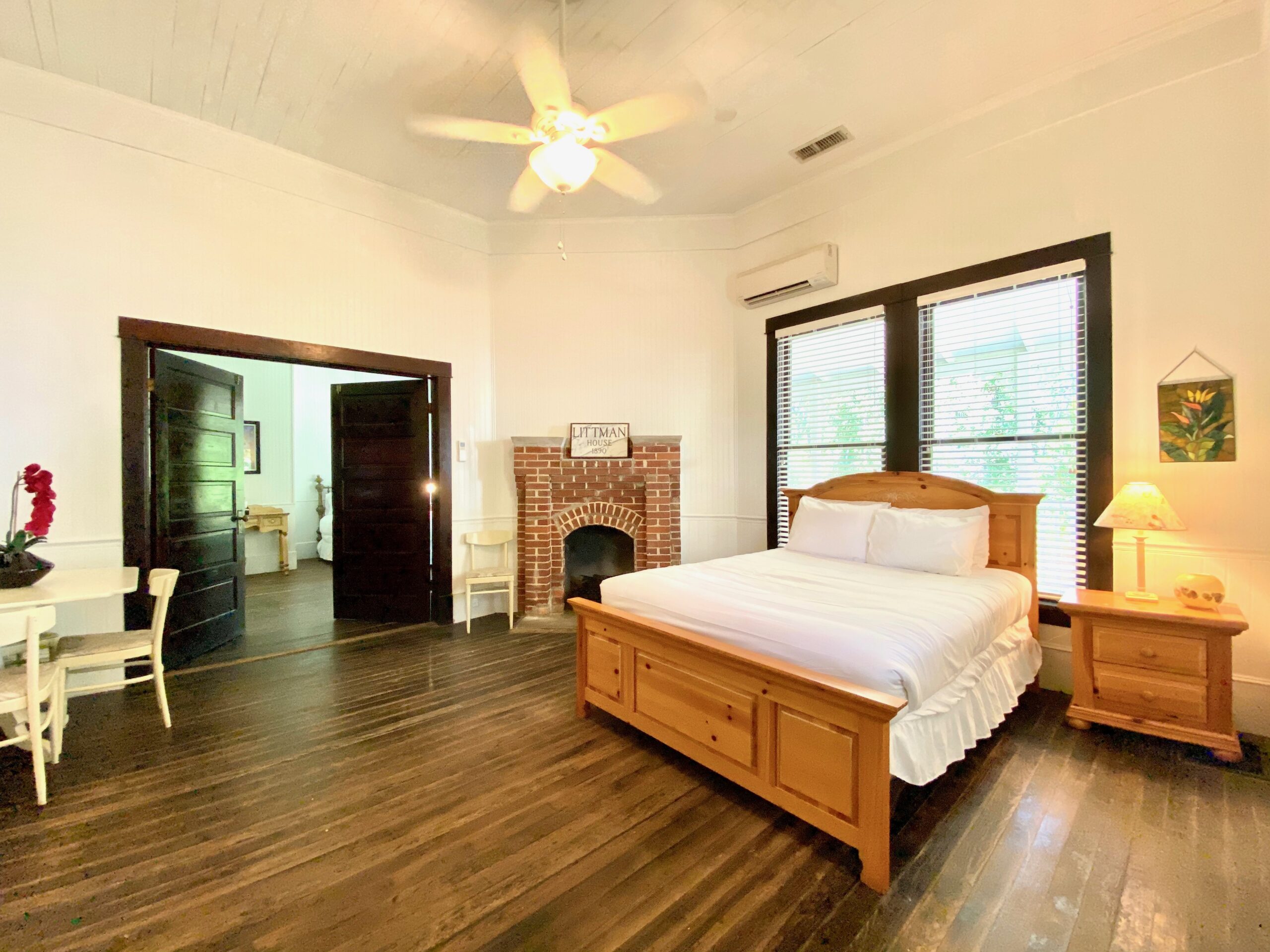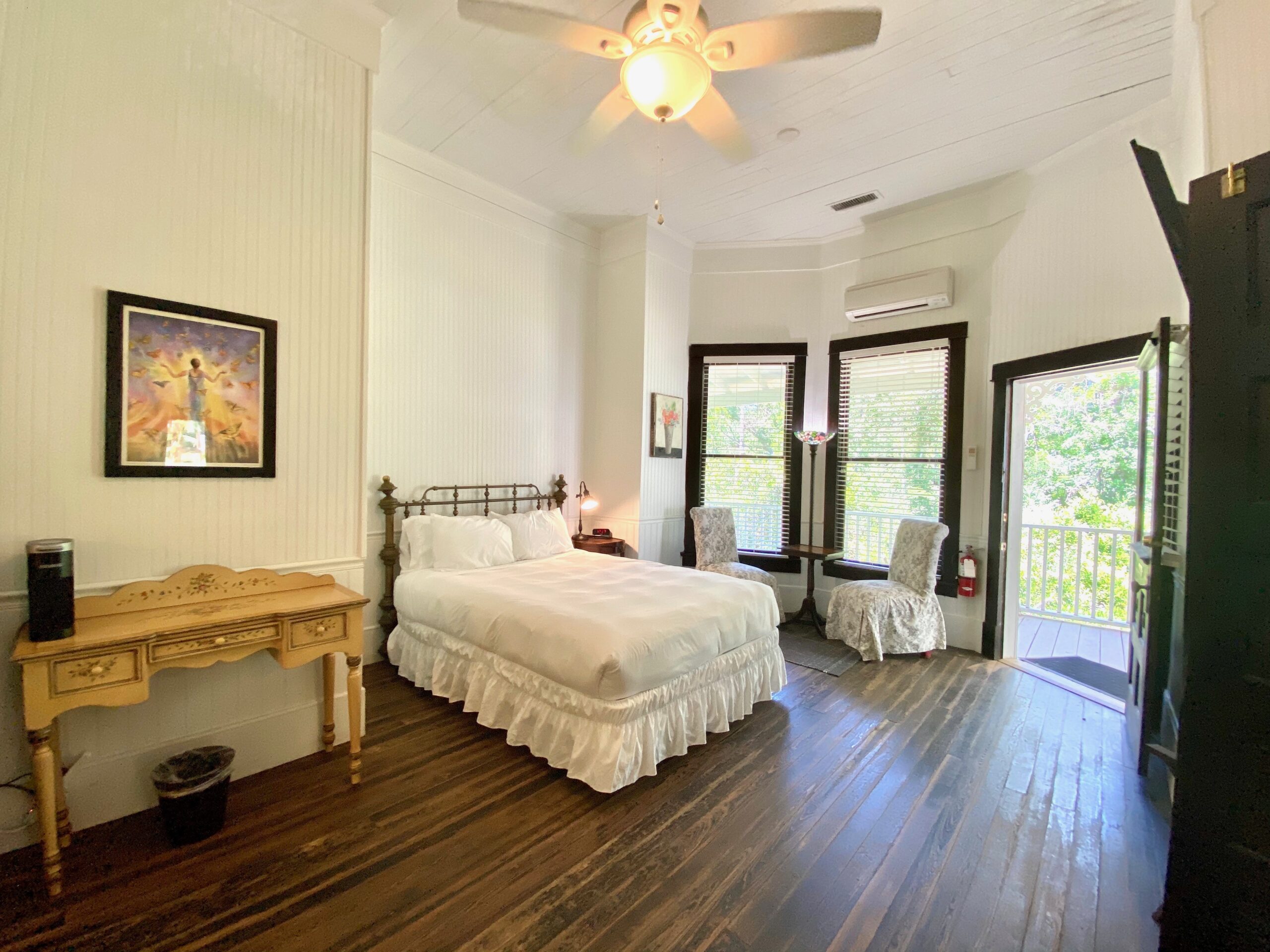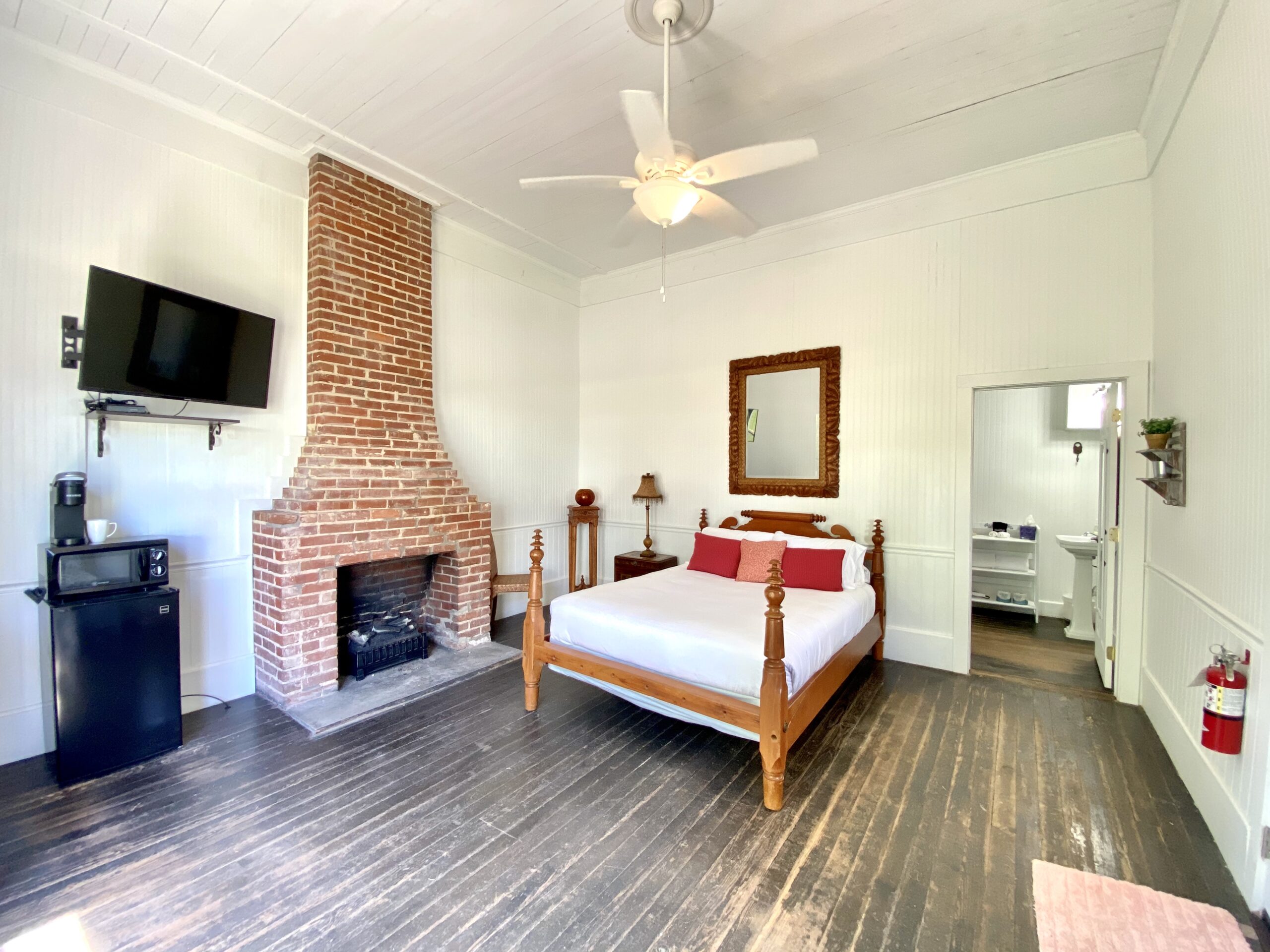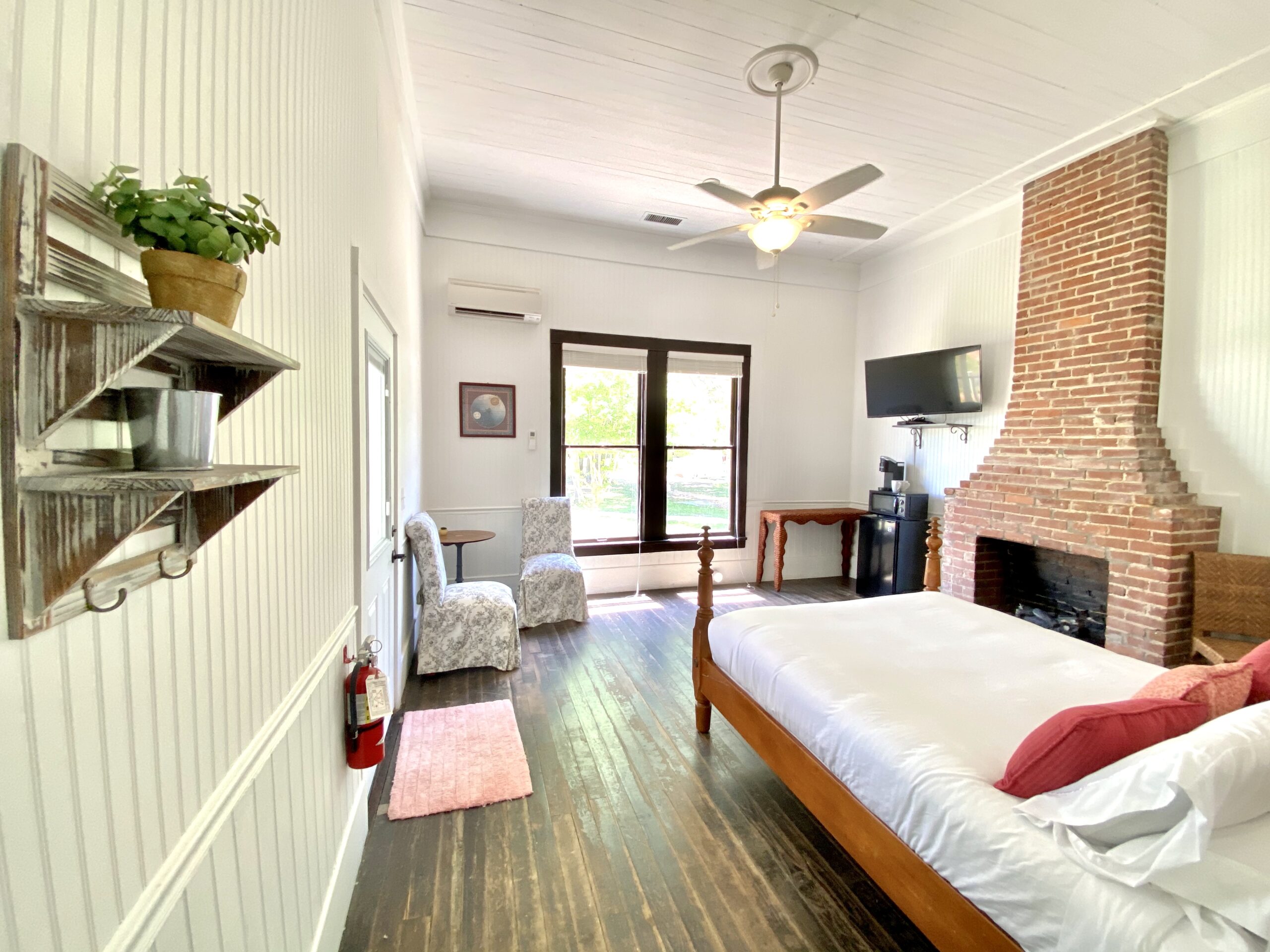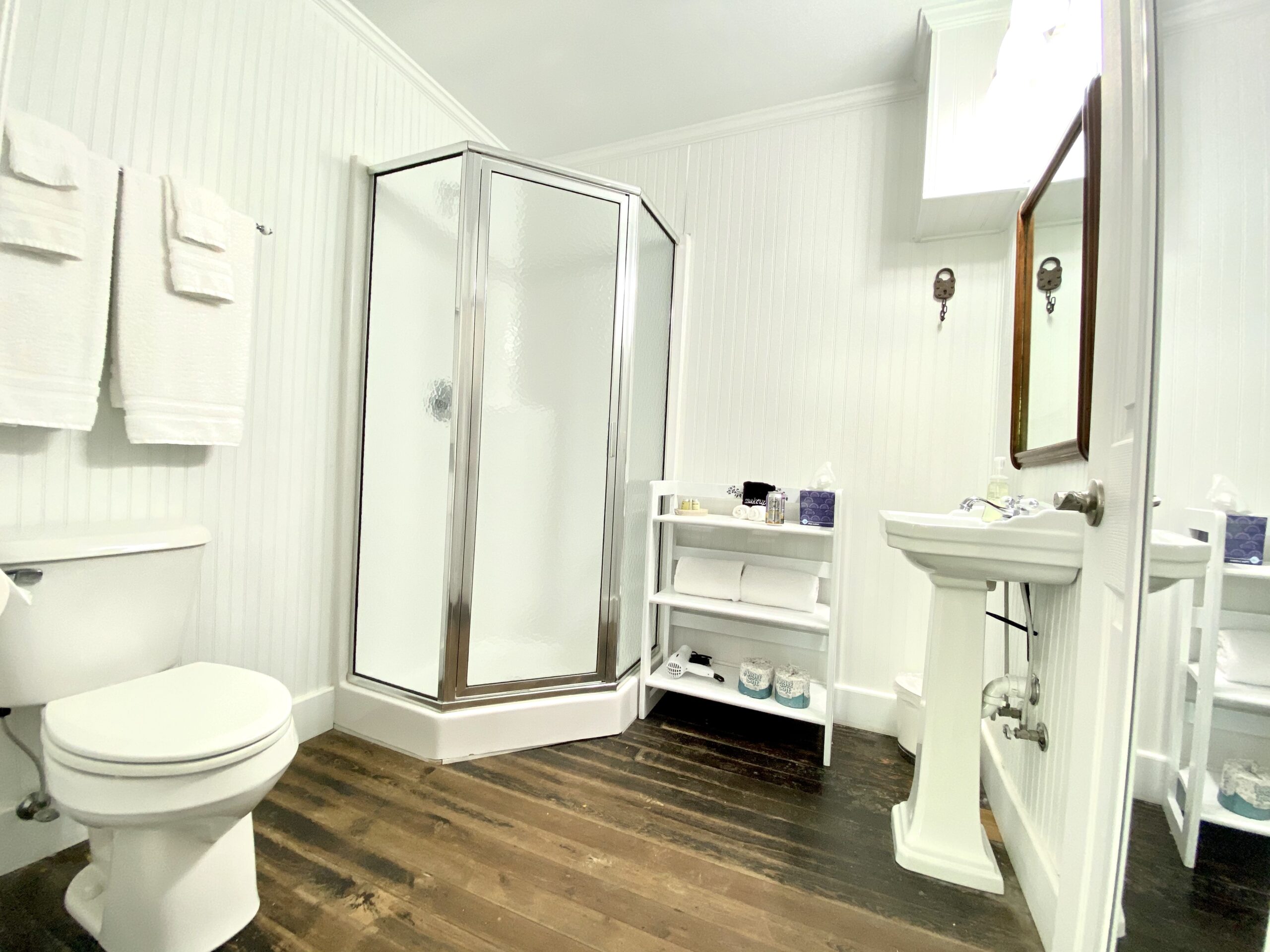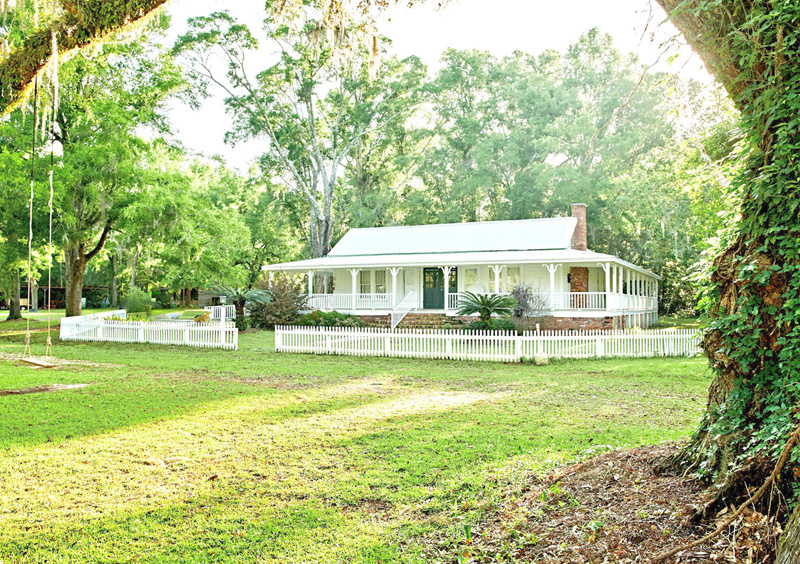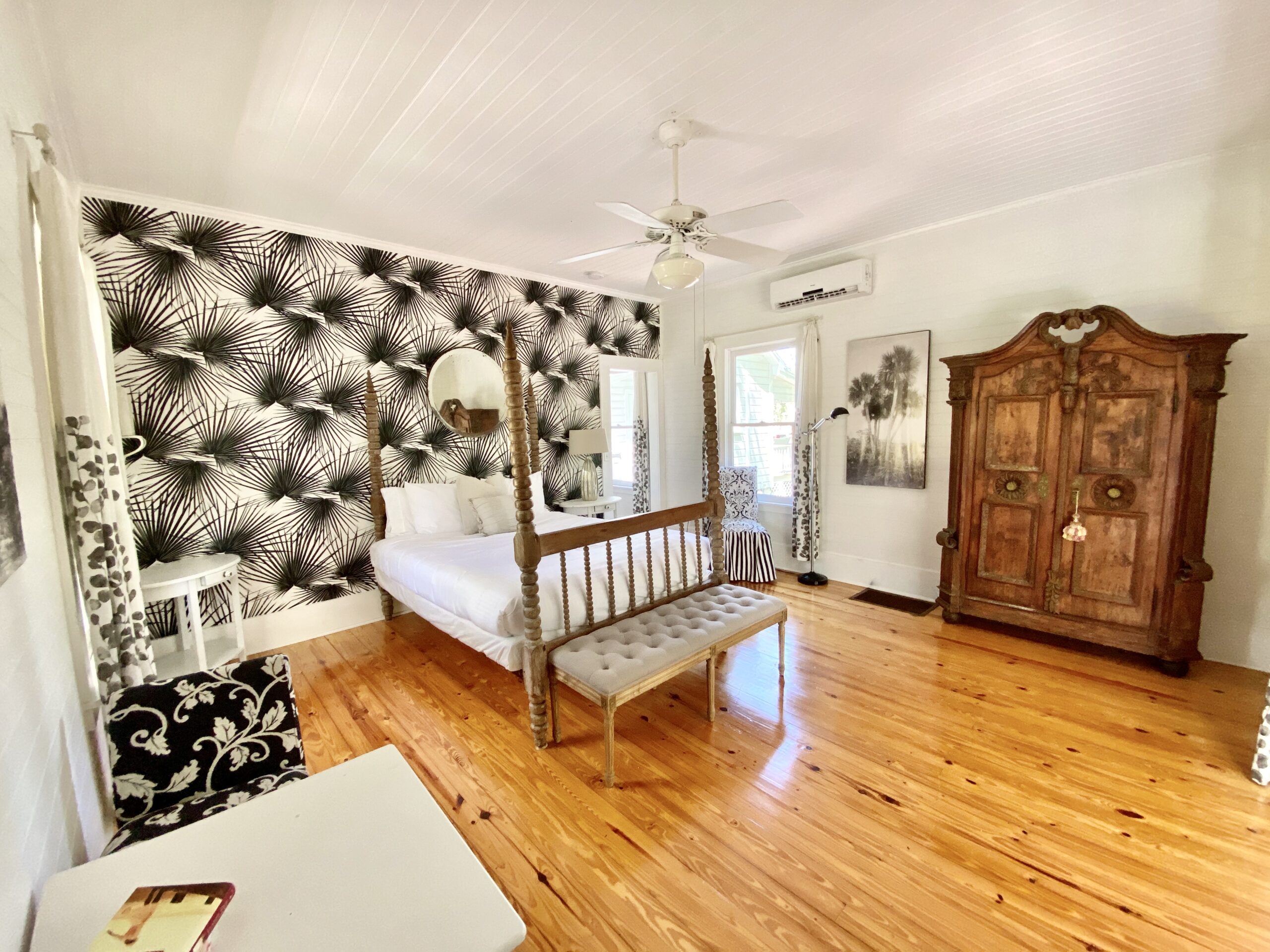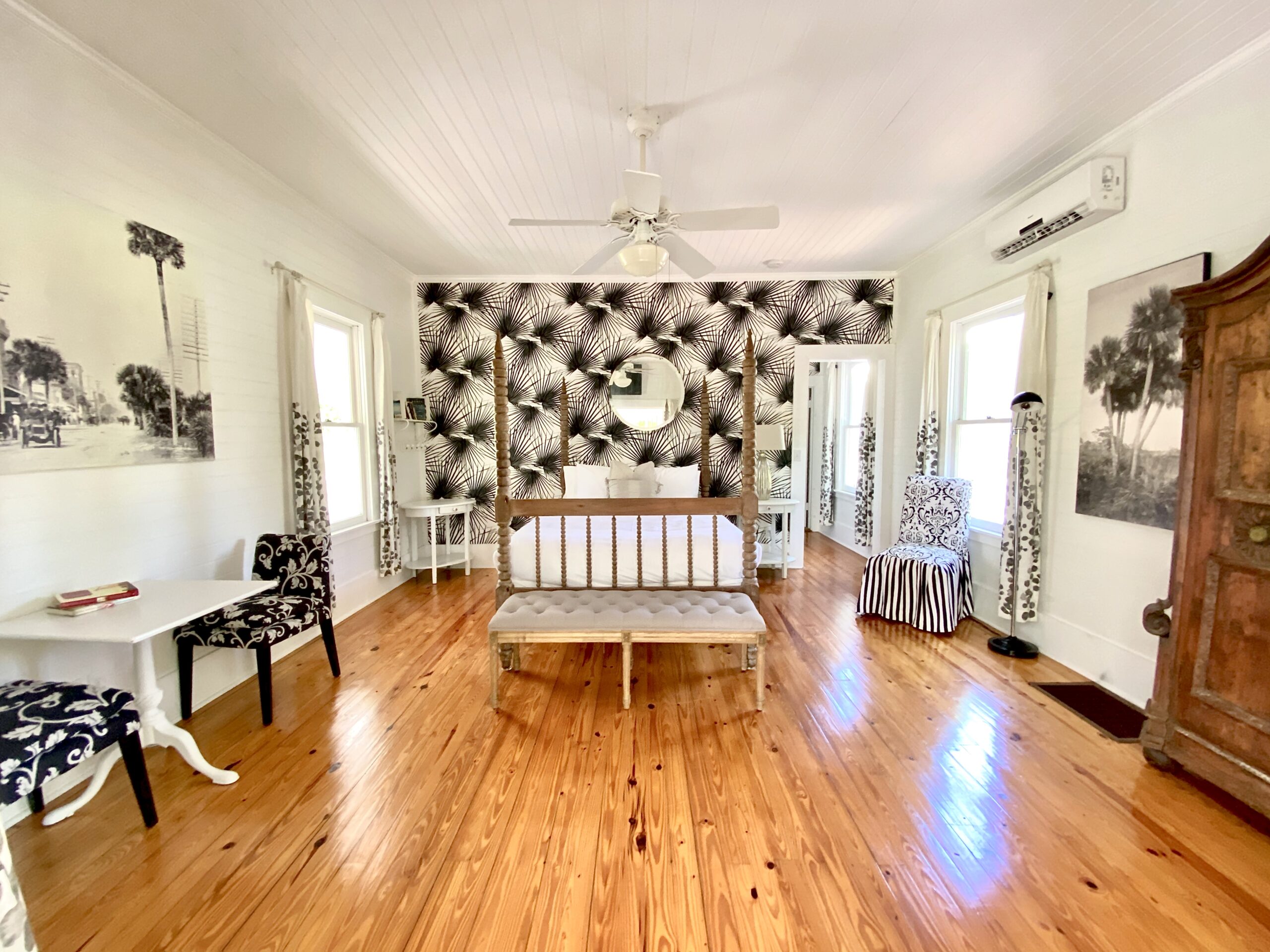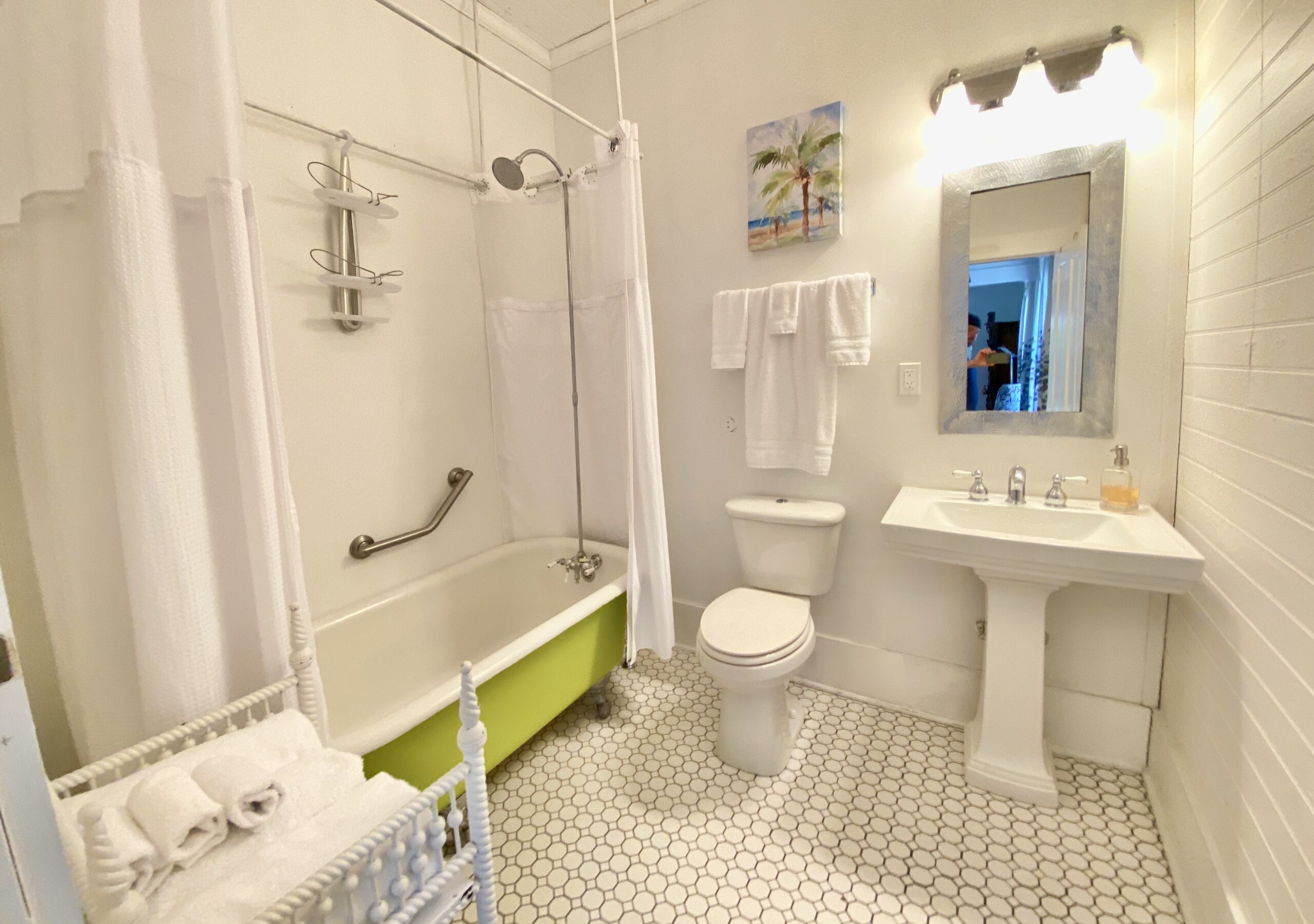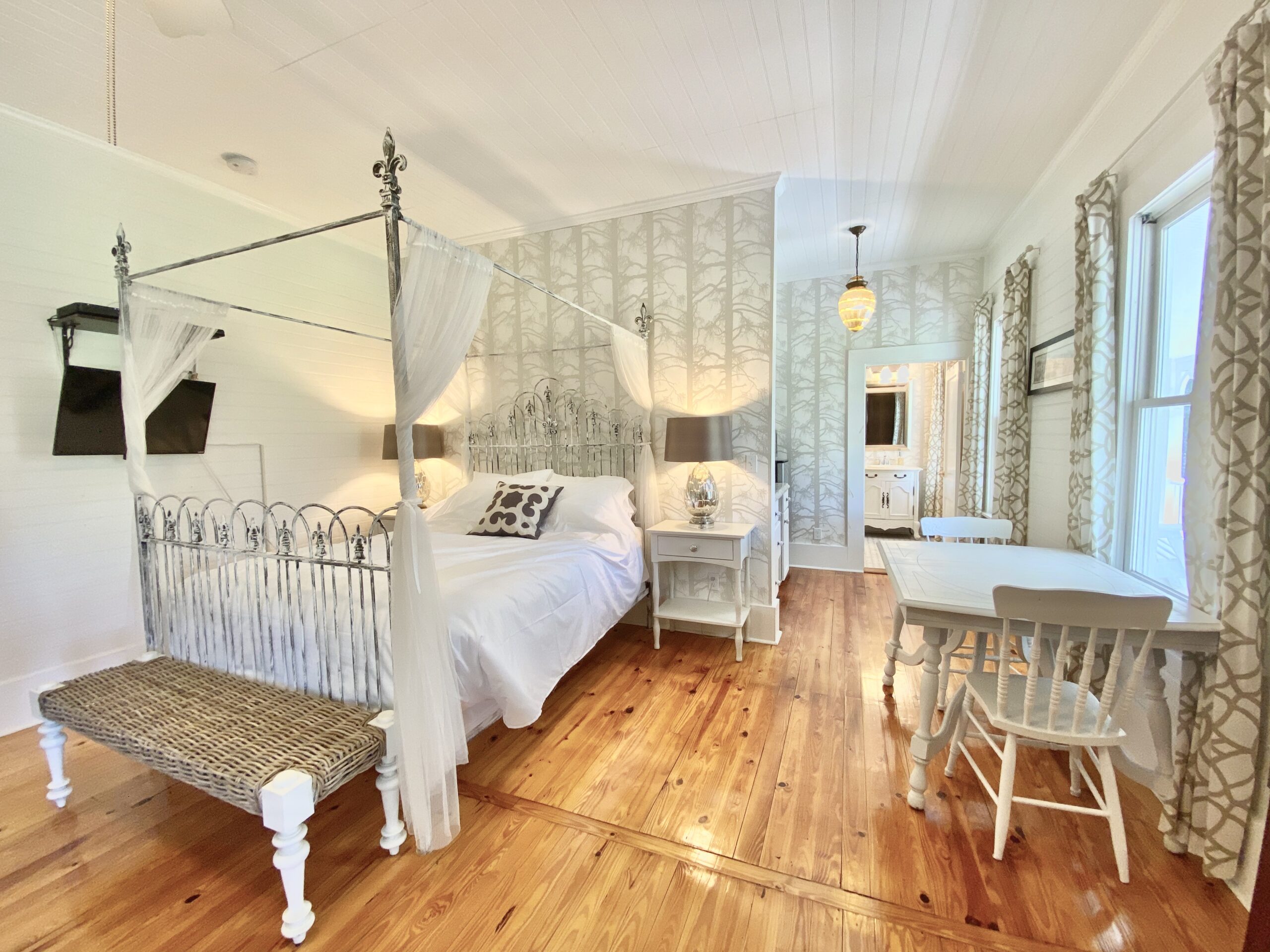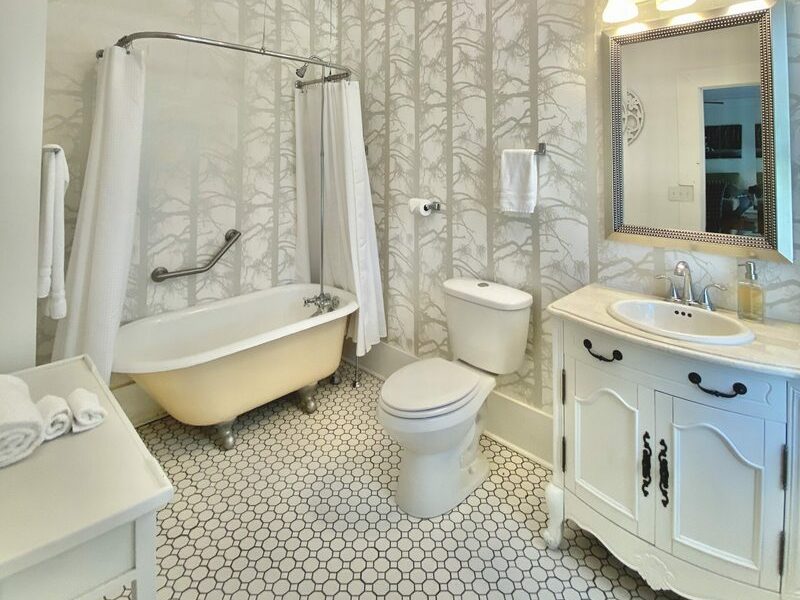 The c.1880 Salem House with its tin roof, wraparound porches, wood floors, and high ceilings, is located next to the Oak Tree. Each Salem House guest room include a private bath, a small dining table with chairs, either a sofa or a chaise lounge, a queen bed that is either antique or artist-crafted, and a breakfast counter with a Keurig coffee/tea/cocoa maker, refrigerator, and microwave. 3 of the 4 guest suite bathrooms feature an antique claw foot tub with a stand-up shower. The Spanish Moss has a walk in shower.
Heart Pine Suite: This room celebrates the longleaf pine. One of our two largest rooms, it has both a large sleeping area with a 19th Century French iron canopy bed (approximately queen size) as well as a large living room area with a decorative heart pine fireplace and a sofa that can be converted to a full-size bed. It is in the original part of the Salem House. Note that in Heart Pine the television is in the sitting area, not in the bed area.
Spanish Moss Suite: One of our two largest rooms, it has both a large sleeping area with a c1860 French Empire brass bed (approximately queen size) a large living room area with a click clack sofa (full size) that sleeps 2 additional guests and a 19th century French armoire. It features a walk-in shower and is located at the entrance of the ADA ramp of the large wrap around porch. It is in the original part of the Salem House.
Bald Cypress Suite: Bald Cypress features both a sleeping area with an artist-made wrought iron Fleur de Lis queen canopy bed and a sitting area with a click clack sofa that converts to a full-size bed, two comfy chairs and a 19th Century French armoire. It features a claw foot tub with shower accessory. The highlight of the room is the 10-foot tall cypress knee (dredged from an Alabama river) that has been turned into a torchiere and the old photos from 1950s Cypress Gardens.
Cabbage Palm Suite: While the smallest of the Salem House rooms, Cabbage Palm is nevertheless, a large room containing a queen size artist-made mesquite tall post bed, a leather chaise lounge, a 19th Century French armoire, as well as a table with two comfortable chairs. Cabbage Palm has its own private porch facing a wooded area with a bird feeder. It features a claw foot tub and shower accessory.
The Wildflower Cottage dates from the 19th Century and was part of the original plantation. It sleeps 2 people in an artist-made wrought iron canopy bed. The Wildflower features a large back porch with a swing and a glider and a small front porch with a rocking chair. We recommend this cottage for the bride and groom at our wedding events as it is our most private accommodation. The Wildflower is next to the start of the nature trail and not far from the spring.
The Wildflower Cottage was built at the same time as the original Nicholson House and includes the same handmade bricks in the foundation that are found in the walls of the house. Famously known as "the Smokehouse", back in the day before refrigeration, meat was salted and smoked to preserve it. The meat was hung from the rafters with bear grass and smoked with hickory for two to three days or longer. It's now a comfy cozy suite with privacy and an amazing view of the natural spring.